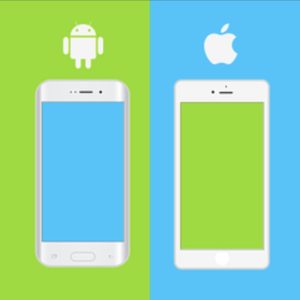 When we say Android, we aren't really speaking about a kind of phone but rather the operating system that these phones use.  Samsung, LG, and Motorola all use the Android operating system. While iPhones made by Apple all use the iOS operating system.  So when comparing the two it would be more correct to say iOS vs Android.
During the comparison we also have to keep in mind that all phones using the iOS operating system are iPhones, and all iPhones are expensive high end devices.  We also have to consider that not all phones using the Android (operating system) are high end devices.  There are many cheap phones out there using the Android operating system.  There are no cheap iPhones using the iOS operating system.  So when we compare the two we have to make sure that we are comparing the operating systems and not the phones that are running them.
All iPhones run on Apple's own operating system called iOS.
Google's operating software was brought into existence in 2008, and is called Android.
Android is completely free for anyone to use. So many different cell phone manufacturing companies such as LG, Motorola, Samsung etc. have loaded the free for all Android operating system into their devices and the result is a seemingly endless and wide array of Android phones on the market.
This means that with all the different Android phones on the market there are many more options available than you will find in iOS devices. That's one point scored for Android.
Some Android phones have a built in micro-SD card slot.  This allows the user to add storage space to their device with ease just by inserting a micro-SD card.  iPhones do not have a micro-SD slot so there is no way to expand the storage on any iOS device. That's two points scored for Android.
Apple's iOS on iPhone is however much easier to use. It has remained basically unchanged since it's launch on June 29th, 2007 (back then it was called iPhone OS).  Anyone picking up an iPhone for the first time can use it without any problem. It's as easy as, touch icon, open app, and use it. Android however might not be that simple to use for some people that are new to the world of smartphones. That's a definite one point for iOS.
When comparing an iOS iPhone to pretty much any android phone in the same price range the iOS phone pretty much always outperforms the Android device. This is mainly because Apple oversees the manufacture and build of it's hardware and it's software from start to finish and can pair them seamlessly together. While Android has to be paired with so many different kinds of devices that the pair can sometimes have a few hiccups. That's two points for Apple.
When all has been said, and we have to choose a side. We are left with a very difficult choice. Just like apples and oranges, it's all a matter of perspective on which one is better.