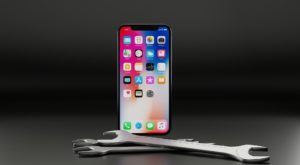 Finally, Apple has launched, as promised their new iPhone self repair program. This will enable just about anyone to repair their own apple devices at home, or will it?
For some do-it-yourselfers Apple's iPhone self repair service might might be a way to save some money. Or it could be a nightmare in disguise.
So what exactly is it?
Well, the first thing you need to know is that Apple will place a hold on your credit card of $1200.00 in order to rent their iPhone repair equipment. The equipment is heavy and weighs almost 100 pounds. That's quite a bit of machinery to replace a simple iPhone screen. You'll need to rent the same amount of equipment to replace your iPhones battery. It's also kind of ridiculous that apple charges over $90 to buy the battery from them on top of the equipment rental cost, when the apple store is replacing the battery for you at just $69.
And although Apple does warn the average DIY enthusiast to "not attempt" these repairs at home they still willingly  rolled out this program. It's an accident waiting to happen.
I'm sure there are many people that have used this program to repair their cell phone that have ended their experience with great success. If done correctly by someone that is skilled with their hands and repair savvy I do agree this program is golden. But for the majority of us that have trouble changing a tire, this program is just what it is.